>

Press Release


May 13. 2011

For Immediate Release.
1400 Watts Peak 700Watts RMS 4 ohm rating with BI-AMP mode.
High range price because High class sound product to high level STK customer.

"SP-1563P AND SP-1563AP. SMART MID RANGE SOUND! ACCEPTED ANY KIND OF VOICE! GRAND SONIC 3-WAY SYSTEM CAN DELIVER ENHANCED FIDELITY AND DETAIL TO VOCALS AND INSTRUMENTS".

STK PROFESSIONAL AUDIO has begun shipping completely new range of high power 3-way speaker systems perfect for churches, groups with vocal ensembles, lots of string or woodwind instruments. The SP-1563P is passive system and SP-1563AP is active powered system. SHIPPING NOW! MAKING YOUR SAFETY BUSINESS, WAITING FOR YOUR ORDER!

SP-1563AP/SP-1563P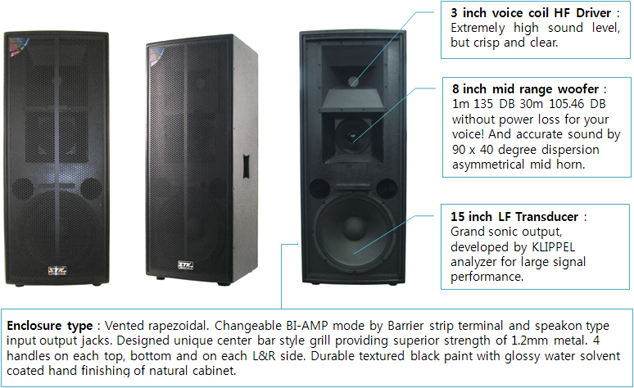 The SP-1563AP, features full bridging 550W 0.05% THD LF amplifiers and couple predriver technology 220W M,HF amplifers drive to each transducers from 6 DB slop active crossover. Professional balanced XLR input and output link connectors and signal /peak LED indicators.

end.